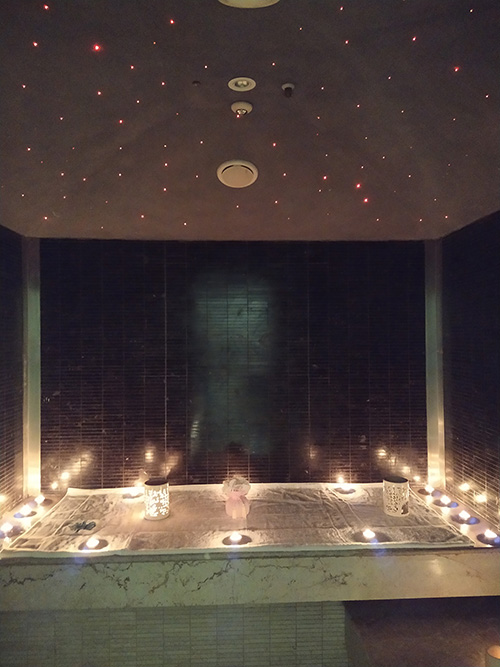 Moroccan Hammam
Resting, fully relaxed, on a heated marble slab, the expert masseur attends to your body's every need, rejuvenating your skin and invigorating tired muscles.
The treatment begins with an exfoliation, beginning with the back and moving on to the face, neck, shoulders, chest, stomach, hips, legs and feet- care is taken over every inch of the body, leaving the guest, in effect with new skin.
Traditional Moroccan Hammam
This classical bathing experience is 'the ultimate cleanse' for body and mind. An introductory journey to a deep cleansing body treatment performed on a warm marble slab under an infusion of eucalyptus scented steam using Moroccan black soap followed by a deep and vigorous exfoliation with a traditional glove to clean the body inside and out.
Herbal & Rose Hammam
This distinctive treatment uses wrap with pure clay blended with botanical roses and herbal extracts, to purify and renovate dehydrated skin.
Royal Hammam
Let the "Royal" be released within you with this beautiful 90 minute face and body treatment. The Royal Hammam will be sure to leave your body feeling rejuvenated, deeply cleansed, smooth and hydrated. Starting off with an application of black soap & steam to soften the skin followed by a deep exfoliation using the finest quality which will reveal instantly smooth skin. Next an application of our Ghassoul and White Honey & Royal Jelly mask which is %100 natural – will leave the skin glowing with radiance.